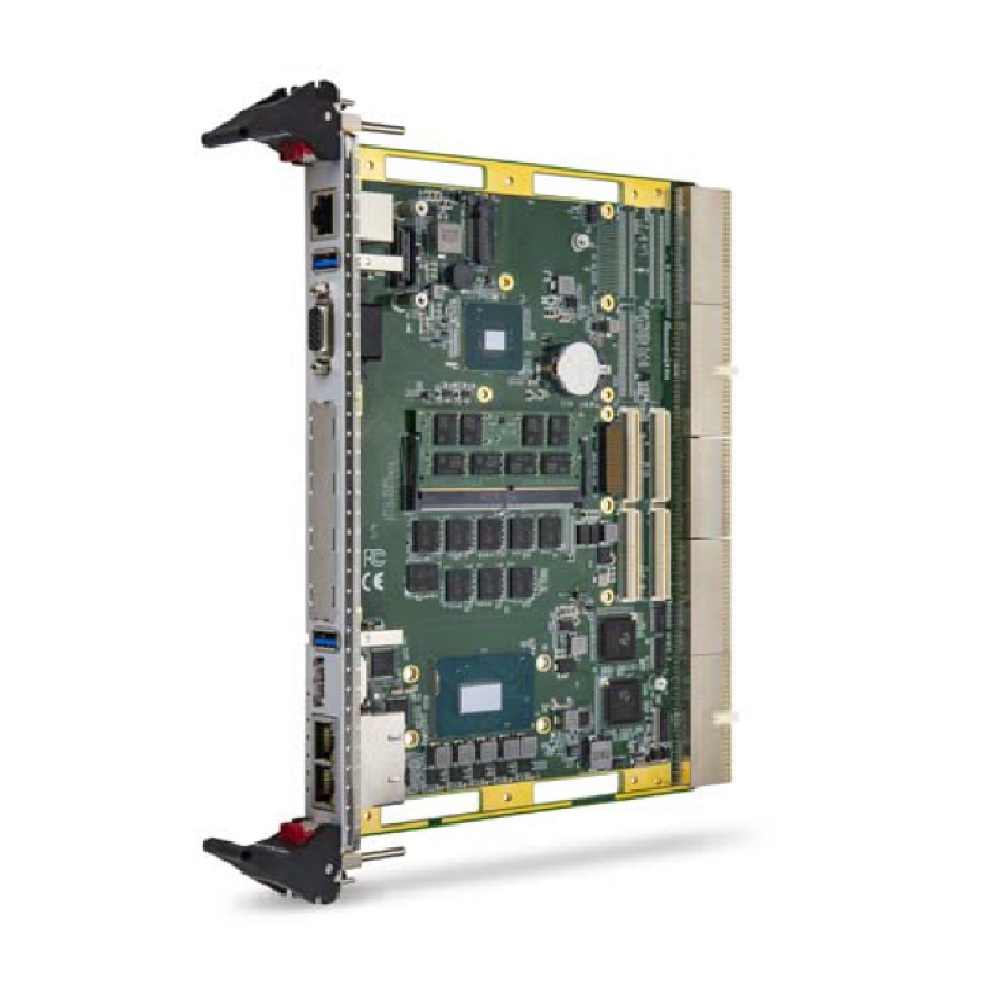 cPCI-6540 Xean/Core i7 Gen9 CPU Module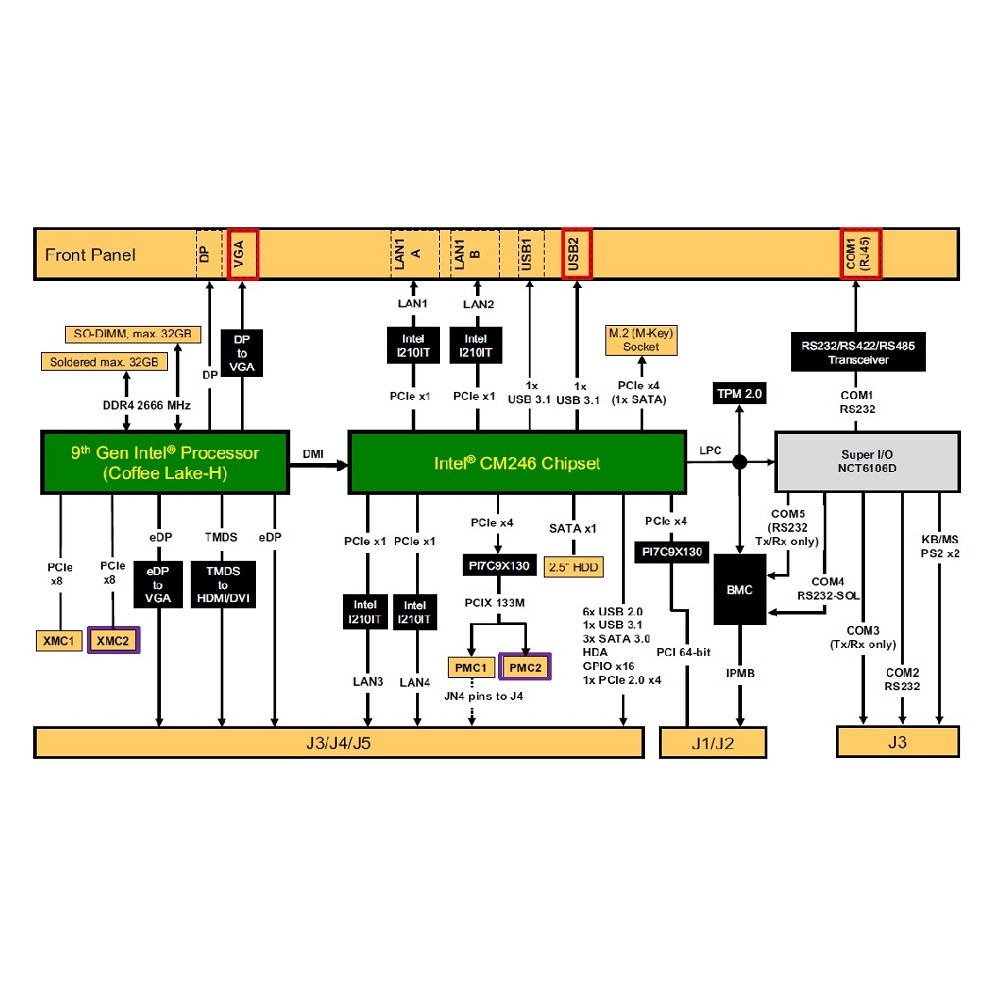 cPCI-6540 Block Diagram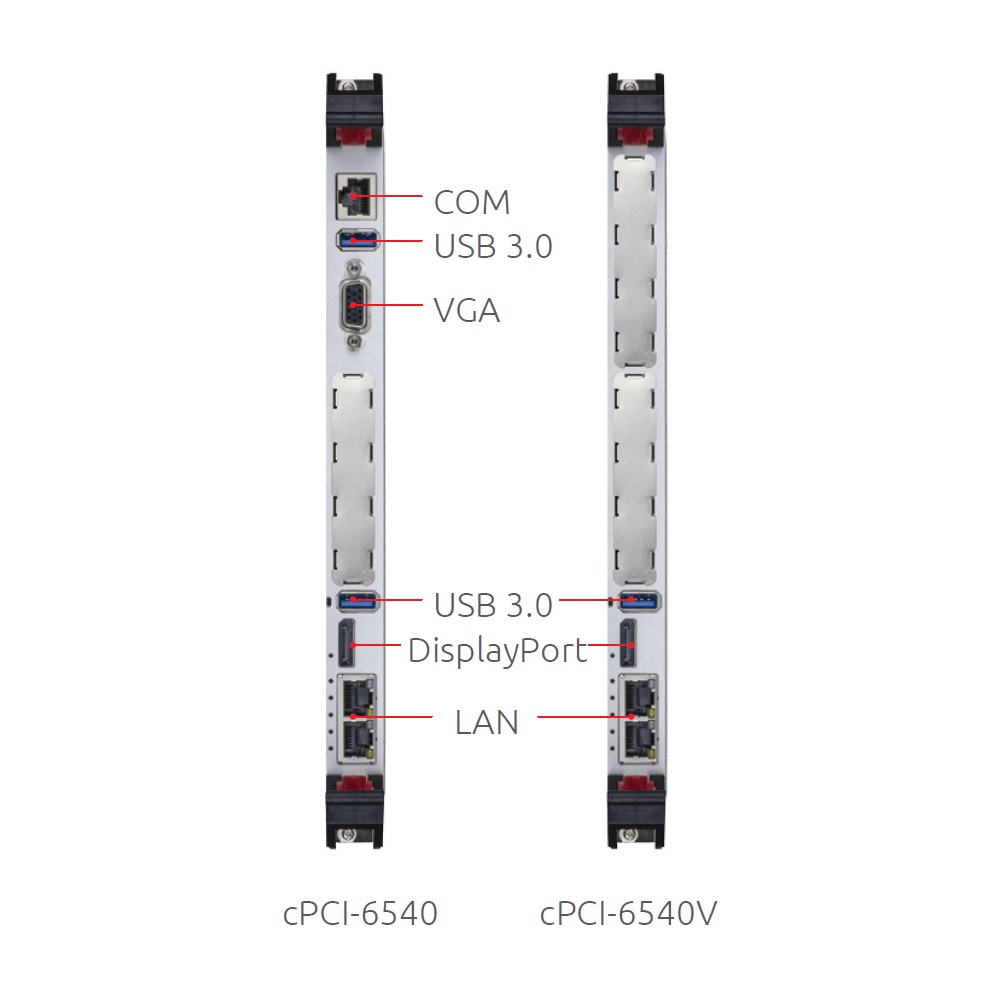 cPCI-6540 Front Panel View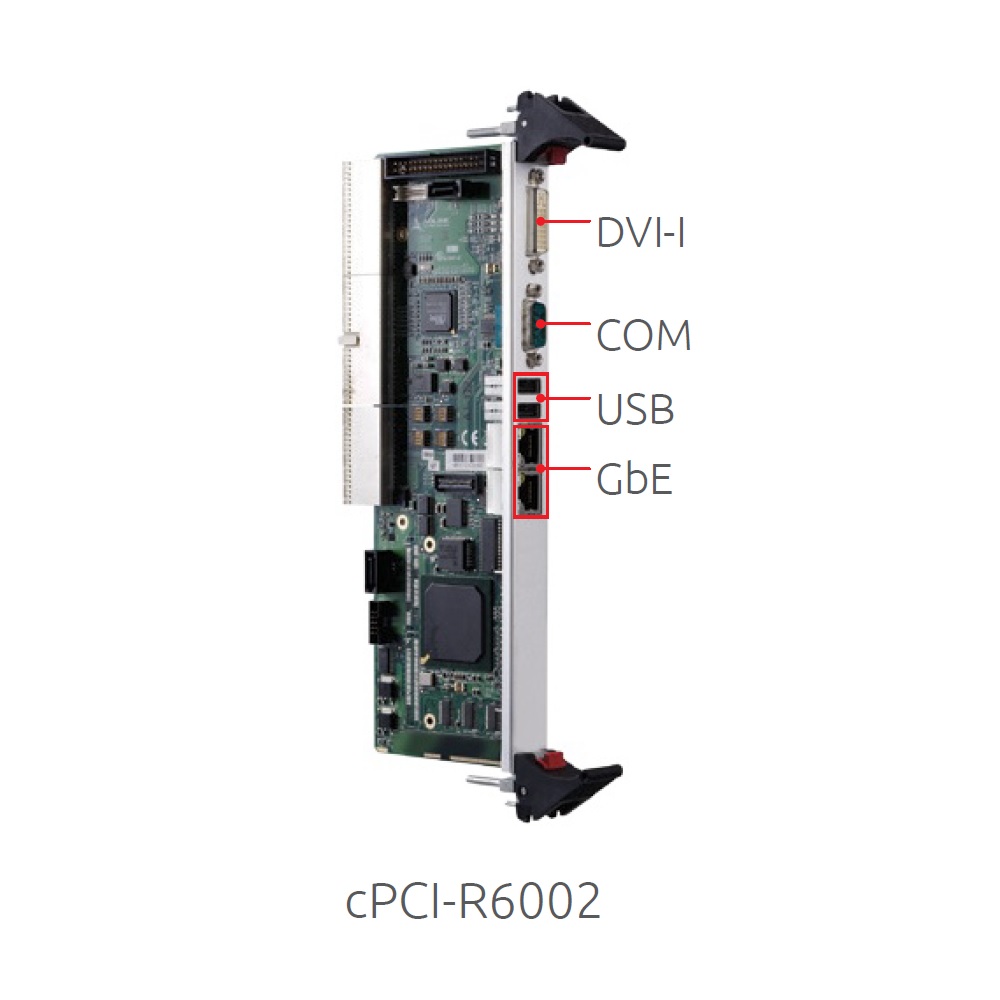 cPCI-R6002 Rear Transition Module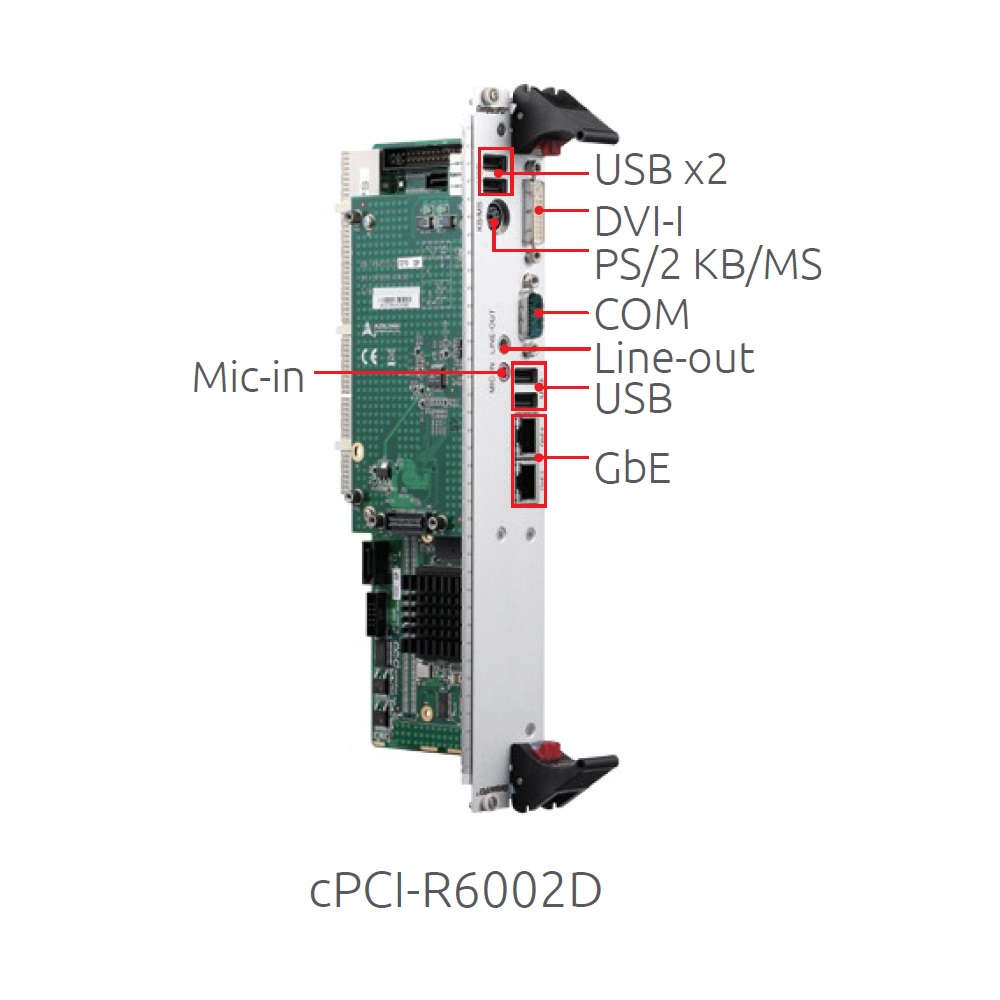 cPCI-R6002D Rear Transition Module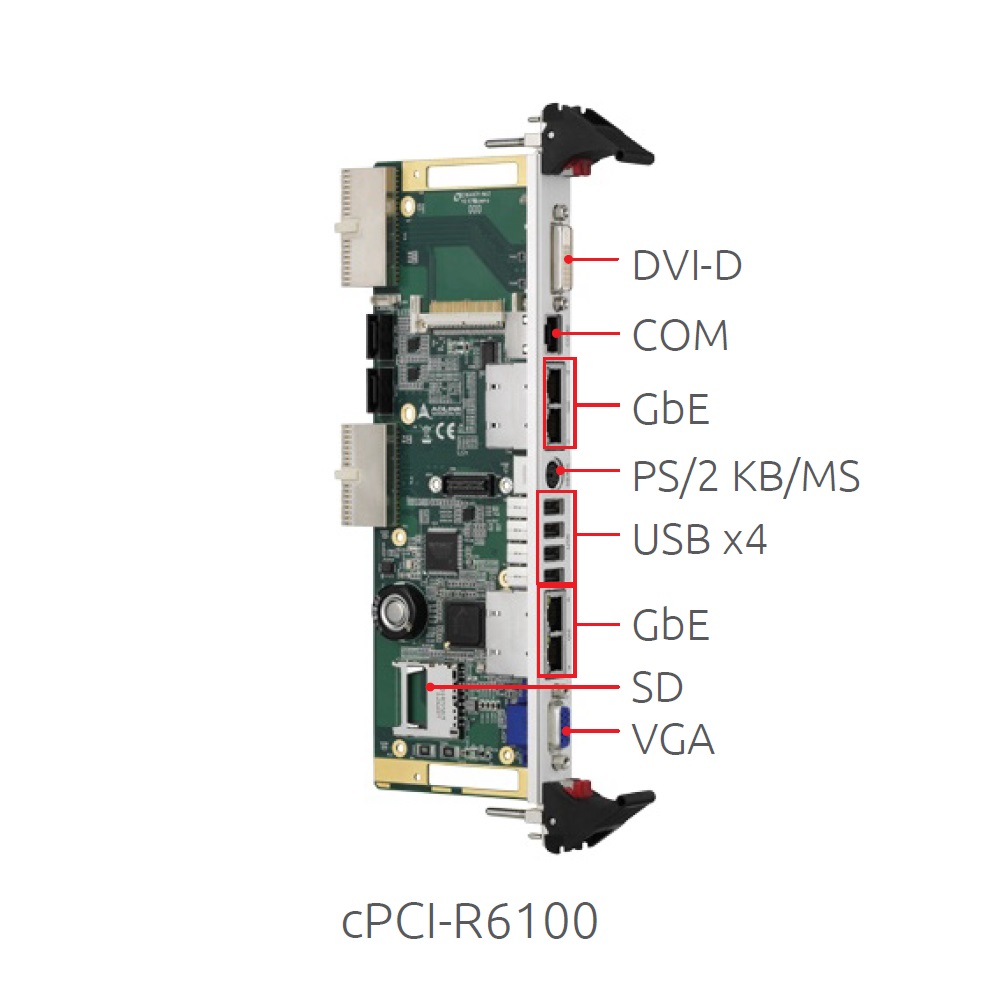 cPCI-R6100 Rear Transition Module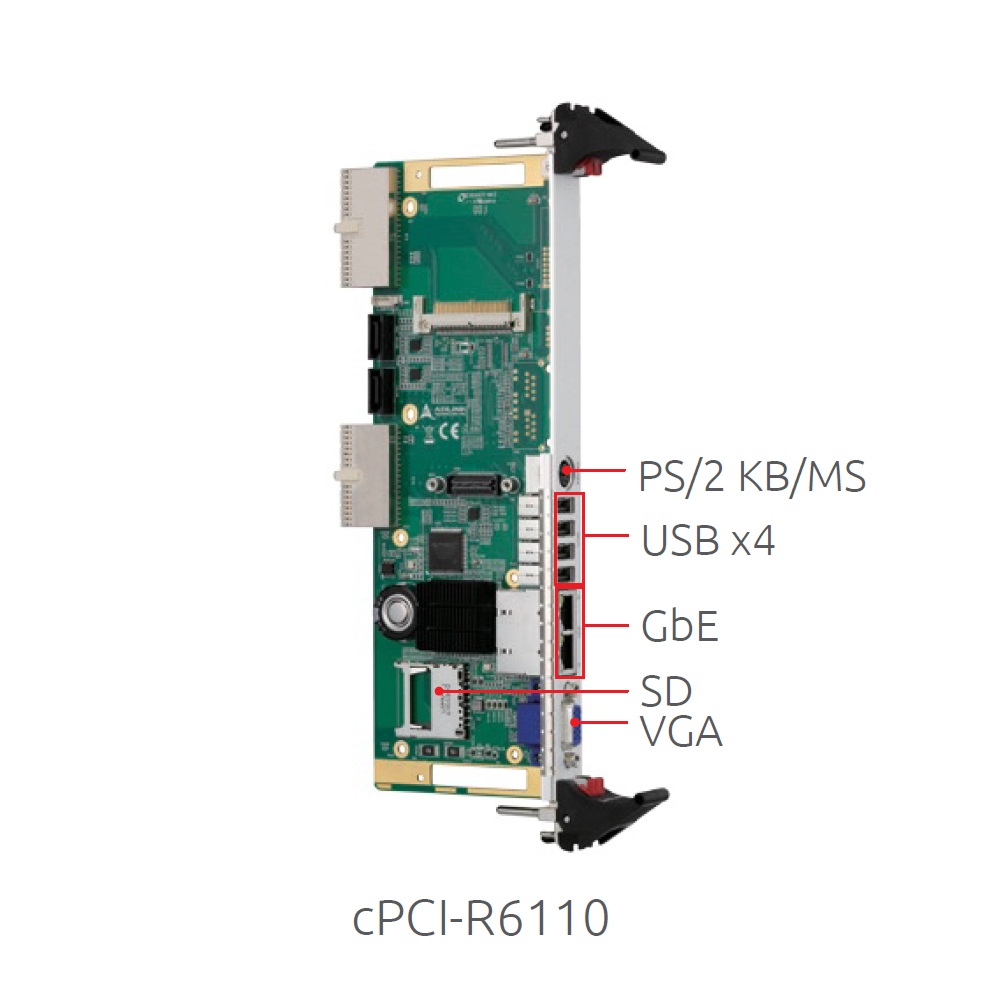 cPCI-R6110 Rear Transition Module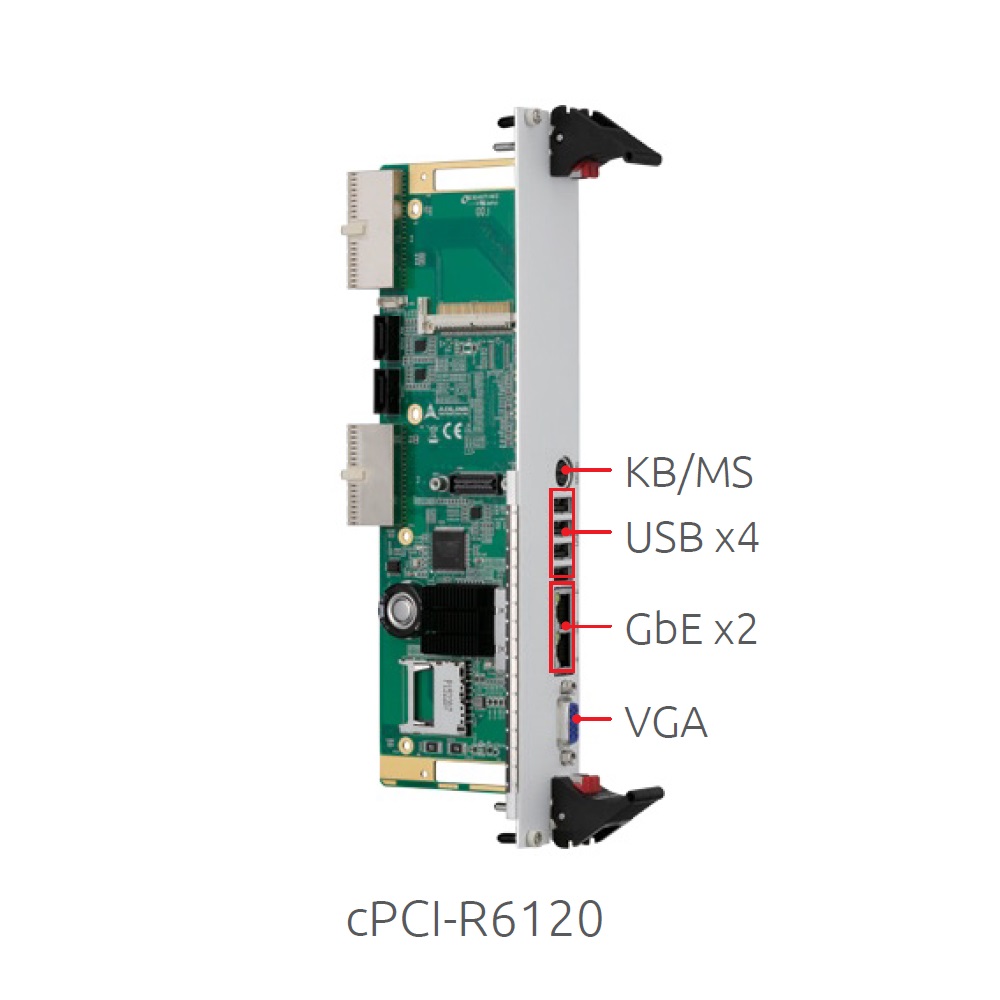 cPCI-R6120 Rear Transition Module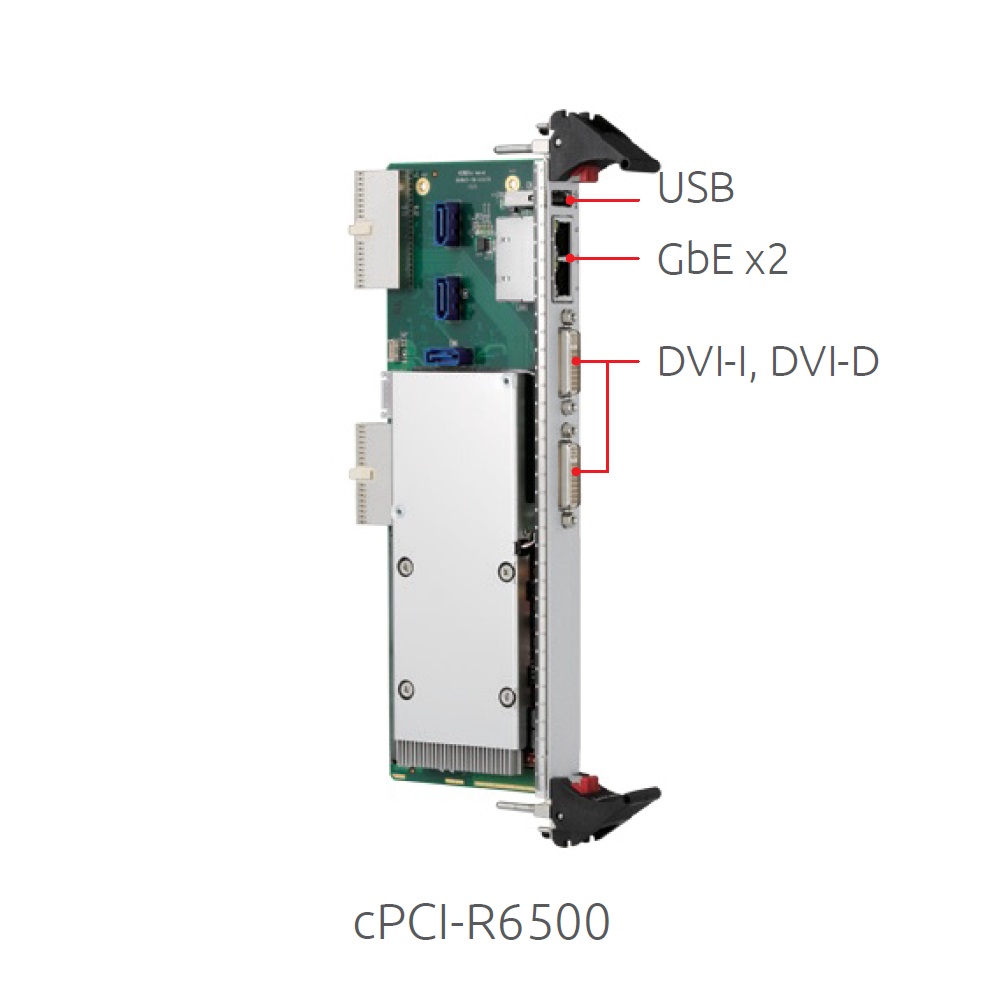 cPCI-R6500 Rear Transition Module
cPCI-6540 6U CompactPCI Xeon/Core i7 Gen9 CPU Board with up to 64 GB SDRAM and 1 or 2 PMC/XMC slots
6U CPCI CPU board with Intel Xeon or 9th generation Core i7 processor, C240 ​​chipset, up to 64 GB DDR4-2666 ECC SDRAM and one or two PMC/XMC slots. Adlink's cPCI-6540 series is available with up to 2.0 GHz 6-core Xeon or up to 4.4 GHz 6-core i7 processors.

The boards come with 16 to 64 GB DDR4-2444 ECC SDRAM, 16 to 32 GB soldered plus additional memory in the SO-CDIMM socket. SSD (only cPCI-6540) and M.2 modules can be optionally equipped. The cPCI-6540 offers one and the cPCI-6540V two PMC/XMC slots for PMCs with 64-bit/133 MHz and XMCs with PCIe x8 Gen2.

The cPCI-6540 front panel has two GbE ports, an RS-232 port, two USB 3.0 ports, a VGA port, a DisplayPort and a PMC/XMC slot. The cPCI-6540V front panel offers two GbE ports, a DisplayPort, USB 3.0 plus two PMC/XMC slots. The following interfaces are available for rear I/O: 2 GbE ports, DVI-I, eDP, PCIe x4, 3 SATA 3.0 ports, 6 USB 2.0 ports, USB 3.1, 16 GPIO, HD audio, KB/MS and two serial ports. A range of rear transition modules enables these I/O extensions to be used and, depending on the module, also offers additional interfaces.

The operating temperature range is -20°C to +70°C, the cPCI-6540 board family is also optionally available in the extended range from -40°C to +85°C.

Board Support Packages are available for Microsoft Windows 10, Windows Server 2016 (Xeon only), Ubuntu, SuSe, Redhat Enterprise and Wind River Linux (Yocto), Wind River VxWorks 7.0 on request.
ORDER NOW
Technical Description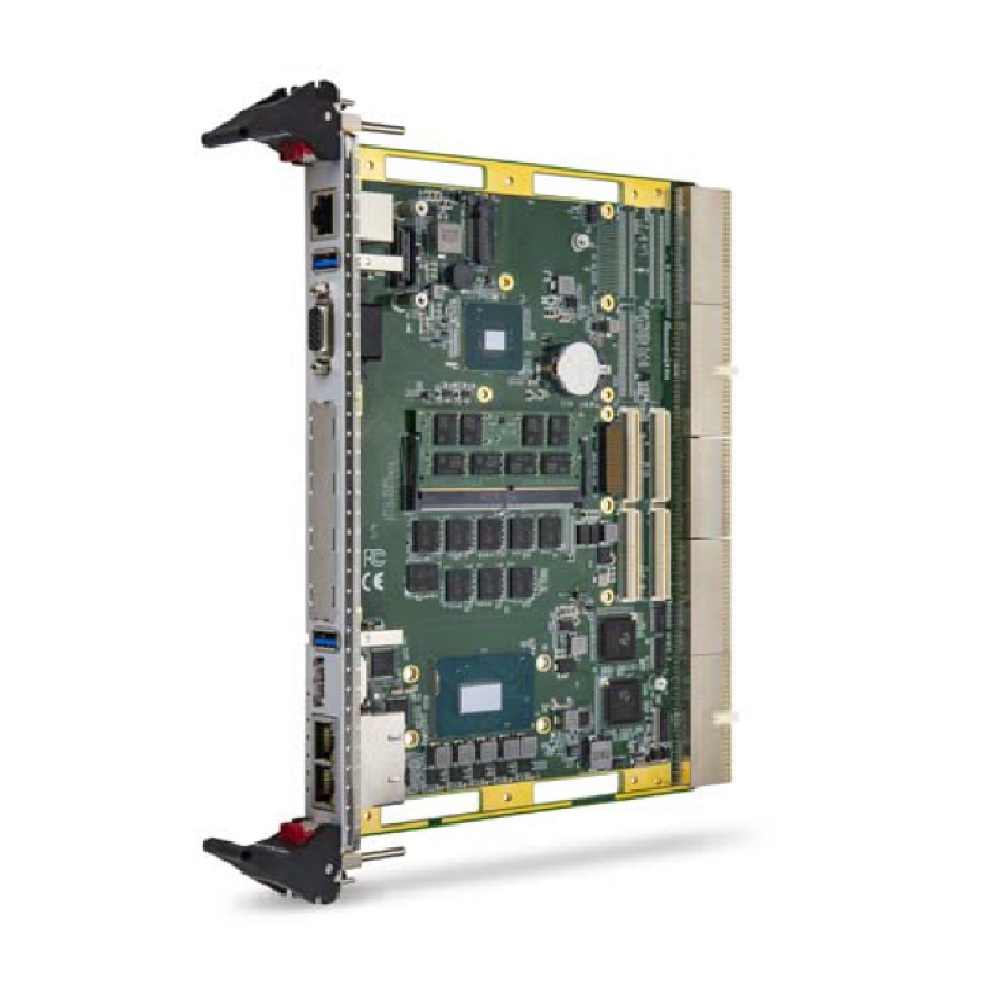 6U 4HP universal slot CPU board, PICMG 2.0 R3.0, PICMG 2.1 R2.0, PICMG 2.9 R1.5, PICMG 2.16 R1.0, 32/64 bit 33/66MHz cPCI bus interface
Intel 6-core Xeon E-2276ME with 12MB cache, Intel 6-core 2.7/4.4GHz Core i7-9850HE with 9MB Cache, Intel 4-core 1.6/2.9GHz Core i3-9100HL with 6MB Cache or Intel 2-core Celeron G4930E with 2MB cache
16 to 64GB DDR4-2666 ECC SDRAM, up to 32GB soldered, SODIMM socket for up to 32GB
Mobile Intel CM246 chipsets
Intel processor graphics up to DX 11.2 and OGL4.3, dual mode DP front panel port (DVI, HDMI,VGA), DVI-I and eDP via rear I/O, three independent displays
Two front panel GbE Ethernet ports (I210IT), two more I210IT rear I/O ports
PMC/XMC sites 64bit/133MHz or PCIe x8 Gen2, one slot on cPCI-6540, two on cPCI-6540V
One RS-232/422/485 front panel serial port, two RS-232 rear I/O ports
Two USB 3.1 ports on front panel, six USB2.0 and one USB 3.0 rear I/O ports
SATA III 2.5″ slot on cPCI-6540, PCIe x4 M.2 site, 3 SATA II rear I/O ports
HD Audio rear I/O port
PS/2 keyboard/mouse rear I/O ports
AMI UEFI BIOS
Operating temperature range -20°C bis +70°C, optional -40°C bis +85°C
2 years warranty
Order Information
cPCI-6540 CPU board with Intel Xeon E-2276ML, 64GB SDRAM, 2 GbE ports, 2 USB 3.0 ports, RJ-45 COM port, PMC/XMC site
cPCI-6540 CPU board with Intel Xeon E-2276ML, 32GB SDRAM, 2 GbE ports, 2 USB 3.0 ports, RJ-45 COM port, PMC/XMC site
cPCI-6540 CPU board with Intel Core i7-9850HL, 64GB SDRAM, 2 GbE ports, 2 USB 3.0 ports, RJ-45 COM port, PMC/XMC site
cPCI-6540 CPU board with Intel Core i3-9100HL, 16GB SDRAM, 2 GbE ports, 2 USB 3.0 ports, RJ-45 COM port, PMC/XMC site
4HP rear I/O module, 2x GbE, 2x COM, 3x USB, 2x SATA, DVI-I
8HP rear I/O module, 2x GbE, 2x COM, 5x USB, 2x SATA, VGA, PS/2 KB/MS
4HP rear I/O module, 4x GbE, COM, 4x USB, 2x SATA, DVI, VGA, PS/2 KB/MS, CF, SD socket
4HP rear I/O module, 2x GbE, COM, 4x USB, 3x SATA, DVI, VGA, PS/2, CF, SD socket
8HP rear I/O module, 2x GbE, 4x USB, 2x SATA, VGA, PS/2 KB/MS, CF, SD socket, 2x SATA sites
8HP rear I/O module with NVIDIA RTX3000 MXM 3.0 graphics module type A with DVI-I, DVI-D, 2x GbE, 2x USB, COM, PS/2 KB/MS, 3x SATA
4HP rear I/O module with AMD E8860MF MXM 3.0 graphics module with DVI-I, DVI-D, 2x GbE, USB
Technical Documentation